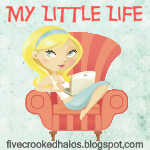 Time for Five Question Friday with
Mama M.
What?!? You want to do it too? Click on the button above to visit her site for all the rules (she's a strict one and I've heard she will hunt you down for small infractions) and link up to play along.
1. What is your favorite ABBA song?
Take A Chance On Me. This question required more thought than any other 5 question I have done. Love ABBA, never seen MamaMia and much like
MamaM
, I just feel the need to groove when I hear their music. It's not pretty, but I do it anyways and I don't apologize for it.
2. The thing you love most about fall is...
Let's see; decrease in humidity, beautiful colors and the possibility of retiring the mower for the season? That's all good, but what I love the most is the anticipation of all my kiddos birthdays. I have a fall, winter and soon another winter baby, so I start getting excited at the first nip of chilly air on my tootsies.
3. What store you would love to spend to heart's desire (money is no object)?
I would have the biggest load ever from Coldwater Creek and then put it back running to the grocery store. Hello practicality and annoying frugality. I have tried to amputate that part, but it keeps growing back.
4. What is your favorite snack food?
Cookie Crisp cereal. It's fortified with all sorts of vitamins, plus you add milk...I mean, come on. You might as well take a multivitamin with how healthy this stuff is....
right. seriously.
5. What was your first car?
Chrysler New Yorker. At one point a luxury car, this baby grew up to be a 16 year old's clunk wagon. Having my sweet 16 in July proved to be extra fatal with the car that had leather seats and a broken air conditioner. I lost many layers of fleshy back thigh to those scalding luxury seats.
YAY, it was so much fun to play again with you all!!!!!!