With the wild success of "Food Bloggers" and the obvious fun they have in doing it...
Wait...cooking can be fun? Seriously check out some of
Mama M's food posts
and not only will she teach you how to cook some pretty durn good tasting stuff, but she will have you laughing will you do it!
...so anyways, I wanted to cash in on this food blogging stuff...well, cash in makes it sound like I actually make money doing this and well....I don't. Bummer.
While I am a pretty good cook, I am not so great at taking pictures of the steps...wrangling the crayons...time management...or remembering the fire departments phone number. I am however excellent at presentation and can wield a mean fire extinguisher.
So here is my 1st (probably only) attempt at food blogging (using pictures that are not my own) in a step by step picture "how to" on how a dinner is prepared around here.
First start off with going to the store and picking only the finest and freshest ingredients.

Child has tantrum in store causing you to flee and forget half of your list

Get home and set children down to do a project while you get the pots/pans out
Get food boiling and cooking on stove.
Drop recipe that dog grabs and runs off with.
Break up fight between kids because someone HAD to have the red crayon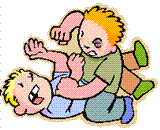 In the meantime...
Next step
45 minutes later...dinner is served
Final and most important step